Day 8, full of karaoke tracks, childhood dance parties, and teenage mockery... awesome!
Song #79:
chai-ka-tuek chai-ka-tuek chat-ka-tak chai-ka-tak yangn-gai-ko-mai-ru
Song 71:
Vengaboys - We Like To Party
The less famous version of Aqua, in my opinion. They had some good songs, but never got the attention they deserved... shame.
This was also from "HitList," my go-to show for new music. It had horns, the beat was dancey, of course I would love it. Also, it has a fantastic message:
we like to party, we like, we like to party...
Who doesn't like to party? Especially on a bus ;"D
Song 72:
Foster The People - Don't Stop (Color On The Walls)
All grown up, my taste in music hasn't changed much, but there's a wider variety than what I had long time ago.
In comes this band: I didn't like their first single one bit. That intro is creepy, and the message was remorse. So when they released other tracks, I was shocked - I liked them much better than their first.
This is pump-up music, extremely comedic, and light-hearted. Improvement indeed.
Song 73:
Amerie - 1 Thing (Siik Remix)
There was a movie called "
Hitch
,"and it became one of my favourite movies... all due to this song.
Cue in the mash-up, and it's up in my list! Not sure where it stands, but that's not the point. If the original weren't perfect, the different beat gives such a lounge-mood, and the violins, oh THE VIOLINS.
There are masterminds when it comes to mixing... hopefully I can make something near as good to this - this 1 Thing I don't want to fight.
Song 74:
Stacie Orrico - I Promise
What ever happened to Stacie Orrico? I know she had like 2 albums, then disappeared into the sky... I hope she'll come back, cause she made the best songs.
Though I don't have my favourite song of hers in this list (gasp!), I must say her songs got better after each release. She can sing anything, including ballads.
An optimistic love song, saying that they'll be there for you no matter what... I like that, gives me hope and the warm fuzzy feeling inside.
Song 75:
Julie Andrews - A Spoonful Of Sugar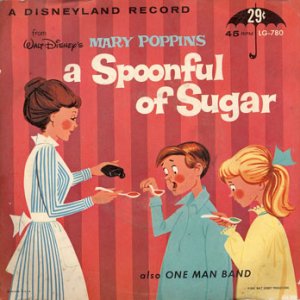 Here we go again, Disney soundtracks! I thought a bunch of Disney songs would be a great asset to the list - it's time to rediscover!
Has anyone ever tried eating a spoonful of sugar after taking their medicine? Never thought of it, but somehow it flows when singing along to this song. Whoever penned this song had wonderful thoughts.
I adore this scene, I practiced snapping so that I could clean up that way - only nannies have that power.
Song 76:
Ilene Woods & Rhoda Williams - Oh, Sing Sweet Nightingale
Back-to-back Disney! Oh yeah! I know this scene, but never remembered the song she sang while Cinderella was cleaning the floors... strange, huh?
Well, you could say it's a duet/competition to see who has the better vocals, Cinderella or her step-sister. I think you know who won this battle. Beautiful melody, and it simplicity makes it astounding.
Song 77:
Spice Girls - Stop
Of all the songs they released, this one didn't get to #1. How can that be? This is my favourite song by the Spice Girls! Heck, I even remember the dance!
The catchiest of them all, but I don't think it was their best video. Every weekend, my cousins and I would sing along and dance to this song... as a form of amusing ourselves. Never once did we feel silly. I still don't feel silly when this song comes on...even in the club on 90s night.
Song 78:
Ke$ha - TiK ToK
Her name is Ke$ha, and she left her mark in the music industry. This was the song that broke her and made her a star. Sure, she's not exactly singing in this song, and it's not quite rapping, but it's darn too addictive.
This is my performance song, I even want to do a cover (hopefully soon) with a bunch of other songs in it - that'll have to wait. High energy and a crowd pleasing song, you can't help but feel satisfied after having a good time.
Song 79:
Four Mod - Love Love
Here we go, the cutest song - and it's in Thai!
My cousins are half Thai, and they bring back all this wonderful music when they come back on vacation. I usually like what they show me, but this one has got to be the most adorable one so far!
Two girls singing a love song, shooting their love guns all around town in the video, what could go wrong? Plus, their love interest has my old mobile phone. Bonus points!
Song 80:
Shawn Desman - Let's Go
Déjà vu? Shawn Desman ends the playlist twice in a row! Coincidentally, it's the first single from his second album "Back For More," and oh does this bring memories...
My friend wasn't a fan of this single, and he would always mock it when it came on TV - it was hilarious, especially when he plays on what looks like a bigger version of Dance Dance Revolution d":
But I like it - it was so crunk in my time.