Some deep thoughts arise in this list... Time to ponder, shall we?
Song #582:
Why don't you get up and rise again for me...
Song 581:
Black Eyed Peas - Where Is The Love?
Not exactly their debut, but an introduction to a new member of the group. All it took was one person, and poof, they're one of the top-selling bands of all time.
This is one song that everyone enjoys, because in a time of oddities and happenings, we need to figure out what is wrong with the world, and how it lead up to the state that it is. You may not believe in a higher power, but we can surely learn to be a neighbour and help one another. Love the extended version of this song, wish it was longer.
Song 582:
Maren Ord - Perfect
Never knew this song was for a
movie
... I might just watch it now.
I believe she is Canadian, I always watched this when the HitList would play it. After all these years, I still remember the lyrics to the song. What I really enjoy is what it stands for, it makes you think what would happen if the world was a better place: would you change your thoughts? There is nothing flawless about this song, I love everything about it. Plus, she has a wonderful voice - wish she made more songs.
Song 583:
Maroon 5 - This Love
Ah yes, another band my sister is obsessed with. It's also another song that all us siblings can agree on.
This was the first time I heard of this band, and when I saw the video, I was rather shocked. I didn't know if what they were doing was either a good or bad thing. But nonetheless, he's talking about this relationship that seems to go nowhere - yet he feels trapped. All I want to do is nod my head front & back and rock out. I like the little tid-bit where they sample another song, I guess this song is Part 1 of the story. How interesting.
Song 584:
The Used - All That I've Got
I heard this through an interesting pause of my life... I was a dramatic teen.
I really enjoy the video, but the ending leaves me in fear for some reason. There is no clear meaning behind this song, but I think that it's about experience a certain emotion that you wish not to. When I think of it, I guess that's what the video is all about - wow, that worked out nicely. Of all the 'emo' songs (don't like that term), this has to be the best. Full of soul, and the contrast is rather beautiful.
Song 585:
Janelle Monáe - Mushrooms & Roses
One long song, but seeing her perform this was a delight.

It's the song where her voice goes through some magical effects, and it works. Though she makes it harder to understand what she's talking about, I'm pretty sure that it's something fantastic... So why does the thought of drugs come to mind? Who knows what state Monáe was in, but I love whatever she does. She painted a picture while performing this (awesome!) At first I didn't understand what she was painting, but the last pose she took made it all connected. She is truly an artist in both sense.
Song 586:
Britney Spears - Breathe On Me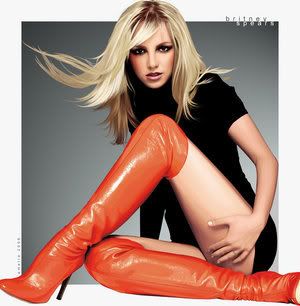 So sexy, but rather clean... doesn't make sense?
It's looking at monogamy in a whole new light. Two lovers are deep in their emotions, but are not ready to touch. Getting hot, and they want a real passion going on... what to do? A breath is all it takes, as it gives you the chills down to the bone. Strange how that is appealing, but here I am talking about it. One of the best songs from the album, wish she released it as a single. When she
performs
it, it's a little more than just blowing air onto a lover though... let it happen.
Song 587:
Colbie Caillat - Fallin' For You
Eek! She is just stunning, and her voice is flawless.
This is the best song & video ever! She doesn't know what it is, but it's something like love when she's around her interest. It's perfect with the video, because it's unexpected and it's got her high off the ground. Exciting and sweet, who knows what will come her way. If I were ever to tell my crush my feelings, this song explains it best. Happy tune, wonderful lyrics, and her personality is awesome. It's amazing what a girl can do with a guitar and her voice.
Song 588:
Boyz N Girlz United - Messed Around (Need To Move On)
Does anyone know where this group came from?
I don't know how they appeared, but if they played it on the HitList, it most likely appeared on my mix CD. It's rare to see a co-ed group these days, and hopefully they come back real soon. It's about someone who wants to kick their lover out the door, because they've been doing them wrong. Not saying that it doesn't work, but it's odd to hear both sides of the story when they're all talking about someone else. Confusing, but it all made sense to me somehow.
Song 589:
Mika - Blame It On The Girls
Lights, Camera, Action! It's a production!
The video is all over the place, but it has to be the most entertaining on the list so far. It's about a man who needs an adjustment with his views on life - how it fits with the blame game, don't ask me. I love the chorus, it's so much fun even when it's not. Everyone is in this game, and it means that all can dance as they wish... not choosing to dance is not an option. When you change your ideas, life all of sudden changes and becomes better. Not too quick, still enjoying the song.
Song 590:
Nelly Furtado - ...On The Radio
This was a different side of Nelly I didn't expect.
From one genre to the next, she goes on the hip-hop route and tries out the different sound. Once in a while you will hear this on the radio, and it's a nice reminder of the old times. And the message is surprising as well, talking about having her independence no thanks to the bum that stole her heart. It's very slick and has a nice ring to it. Isn't it weird how a few years later, she would come back to this sound? Good choice.