That's it, I'm going to be a singer if it means I can have this much fun like this list!
Song #730:
You Got my shirttail flying all over the place and the sweat poppin' out of my head...
Song 721:
HelloGoodbye - Here (Tommie Sunshine Robots Up Radio Remix)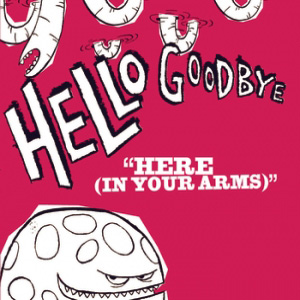 I can't find the mix I have on my phone - perhaps I should upload the songs that don't exist on the internet... Some time, perhaps.
But everything about this song is so good, it's adorable and I find it hard to believe that someone would resist this - it's nerd-chique! With this mix, there is more rhythm to it, and the bass line is heavy. You think it'd be too harsh for the soft words, but it makes me want to snuggle someone real hard. If you excuse me, I'll be looking for my lover, wherever they may be.
Song 722:
Cee Lo Green - Cry Baby
His style is reminiscent to the 50s scene, and everything about it is so right.
Take a look at this song: the sympathetic intro, the mushy words, and the overall kindness. Consider it as sincere and genuine, because the last thing he would want to do is break someone's heart. Plus, the video is happening, especially when
Urkel
plays Cee-Lo Green. The vividness, the dancing, it's just one sweet clip to one sweet song. Who knows what style he'll come with next... Just bring it my way!
Sticking to a theme, we have Christina with her 30s inspired single, and it's a hoot!
I love this sound from her, I wish it ran a little longer though. She had this scene down to a T, and every scene in the video is a thrilling good time from the
Andrews Sisters
look to the jump and jive dance moves - awesome! My version adds sound effects to the song to make it more innocent... or is it more dirty? It's the 30s, there was nothing vulgar about it! I wonder what Tarzan and Jane did after swinging on a vine...
Song 724:
Ke$ha - Run Devil Run
The song she didn't release and gave away to
Girls Generation
... but I still enjoy this version! Mainly because I don't speak Korean...
I don't understand why this wouldn't be part of her album, it's utterly catchy and this non loyal lover deserves what's coming their way. With such a simple beat, you can focus on the message; for the ex, you better be prepared. Maybe it's her fault, but once she's got an idea in her head, there ain't no stopping this chick coming to get you. Attack!
Song 725:
Elin Lanto - My Favourite Pair Of Jeans
One day I was watching Victoria's Secret Runway videos because, they're beautiful. I saw this
one
, and I thought it was so cool that they used this song... someone mixed it with the models. But I do think it'd be awesome if they actually use this, they could pull of a denim line of bras and panties for sure! It's one sexy song if you ask me, how comfortable she feels in these pants; she's talking about you, duh! I also enjoy that cosmic feel to the song, it makes you feel like you're in pure bliss. Give thanks for the Swedish, for they know how to make some good music!
Song 726:
David Guetta ft Rihanna - Who's That Chick
Apparently, the song was to promote Doritos - don't know how that works, but they made one sick song.
Get one DJ, throw in the vocals of a current artist, and you've got some magic going on here. Yes, her voice got auto tuned, but that's all for the effects. And would you care if all you need is the music to enter your fantasy? I don't think so. It's a feel good song that makes you want to say "I'm that chick!" Also, I love the videos and how each theme fits the song so well. That is pure genius.
Song 727:
Lady Gaga - Paparazzi (Stuart Price Remix)
Love this remix, there's a different side to the story.
What strikes out most to me in this mix is the fact that it's sung differently - I want to know how DJs do that! The telling of this tale is more sad than dramatic, and it makes me feel the darker side to all of this fame idea. Does this song make me turn away from the lights and cameras? Not at all. In fact, I feel a bit more appealed. I have this hunger for attention, and hopefully I'll get it... long as it doesn't consume me, I'll be OK. Just remember not to poison the drink.
Song 728:
Various Artists - Just Stand Up!
I love it when artists come together and make a song that lifts your spirits up... so why do I only have one? I like this
one
too, it should be part of this list...
But this one is interesting, all women taking turns giving us a message to never give up and take everything that comes your way. Who cares who is part of the song, the point is that they all bring us this wonderful track that puts a smile on my face. And when they
performed
it, it sounded just like the track! Music like this brings hope to the world indeed.
Song 729:
Simon Curtis - Beat Drop
I'm in it for the operatic performance. It's strange how he just gave everyone a free download for this album, it is definitely worth the money!
This here is one dirty song, but I didn't know what I was listening to when I was 16 years old. The beat is fast and all over the place, and it actually suits the message he's going for. Play his song, because tonight there might be more than what you expect. Oh Curtis, you one naught boy. I do hope you make more music and get the break that you deserve.
Cirque du Soleil must be one of the best things on earth - I want to be an acrobat real bad! When they made an
Elvis
show, I knew I had to watch it!
This is more focused on his swinging moves rather than the abstract, but still worth watching! I didn't realize how much I enjoyed it, because I found myself throwing cash in the store. Of all the tracks, this one is my favourite with all the grooviness and the tiki-sounds in the background. Love these mixes, they did a fantastic job on his pieces!