The title says it all: it only takes one little action to get you off - and how it works so well.
Song #1049:
Don't wanna tell you what it is...
Song 1041:
Amy Adams & Marlon Saunders - That's How You Know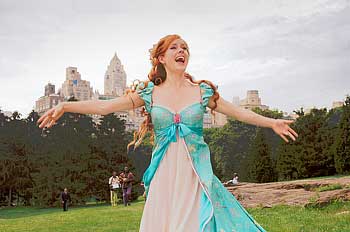 The most awesome song from the most awesome
movie
on the planet! Who don't like lovey-dovey?
Princess Giselle tells Robert a thing or two what a girl thinks if her boy loves her. Doing all these silly things are what they like, and thinking of clever ways to get close to her make her feel special. Throw in a Calypso singer, and you've got one transfused love song that covers, well, everything about love. Never take the ones you have for granted, and say those words!
Song 1042:
Lloyd ft André 3000 & Lil Wayne - Dedication To My Ex (Miss That)
I love it for the old-school rhythm, but the message is kind of... off-beat, especially the dirty version.
He's wondering where his love went; more specifically, a 'part' of her. Everything seemed so perfect and wonderful - then one day, she go and changed. Why is it always like that? The girl gone off and make things complicated. I do like the addition of
Lil Wayne
to introduce the storyline, while
André
's part is a bit weird. He goes so fast, it's crazy cat talk! Never heard a boy talk so much than in this song.
Song 1043:
Ashlee Simpson - Pieces Of Me
Here we have is the original version on the list; the cover appeared
here
.
It's her debut, and it's a pleasant piece. With you, she feels comfortable and that you've got her back whenever she needs you. She can't believe that you know her from the bottom up, and she appreciates it. Hope that feeling she has inside never fades away - she's never felt that way before. What a chilled song, from the simple guitar riff to the mellow drum beat. Simply a nice song: nothing less, nothing more.
Song 1044:
The Ark - The Worrying Kind
On another side of the spectrum, we have here a wild, crazy time on our hands! Those European bands know exactly what needs to go on with music!
Kind of chanty, but it's pure awesomesauce. So much production going around, I don't know where to start. There is a lot going on his mind, and he expresses it with exaggerated expressions. From crazy antics to wild vocal range, it's like the boost of energy you need when you're feeling tired. I think people should sing this when they start to feel uncomfortable C";
Song 1045:
Bobby Driscoll, Kathryn Beaumont, Paul Collins & Tommy Luske - You Can Fly! You Can Fly! You Can Fly!
How many of you tried to fly like the kids in this
movie
? I remember jumping off the couch... only to end up with the floor to greet me back to gravity.
This isn't really a song, but an instructional guide to be weightless in the air. You got to believe, have some pixie dust, and poof! In the air in no time. But that moment you see them off their feet is magic, it makes you believe in anything. Don't worry, it'll happen.
Song 1046:
Ke$ha - Blow
The fondest moment with this song: dancing to it in the club. The kids will sing this loud and proud - and why not? It's Ke$ha! You know it's gonna be a party.
Once you enter, there's no escaping. It's time to let loose, be yourself, and do some crazy, wild things that doesn't happen in the daylight. Tonight, she's taking over and she commands you to dance! With a nice beat like so, I don't think it's hard to do so. Hope you can pick up the pace, because there ain't no slowing down with her. Add in some unicorns, and it's epic.
Song 1047:
Kelly Clarkson - I Do Not Hook Up
This was the perfect era for Miss Clarkson, I liked every song off this album - good old pop sound.
What a fun song from her, she's telling you that she's not looking for love at the moment. No matter how hard you try, there is no way that you're getting her. She just wants to have a good time, enjoy being single, and do whatever she wants. This was written by
Katy Perry
, and the attitude works with Kelly! Don't they make one sweet team? Me thinks they should do a duet about romance and stuff... that would be cool.
Song 1048:
Britney Spears - My Prerogative
The first time I saw this,
Ed The Sock
was poking at the video... I still kept watching. It's still Britney!
Although it's a cover, I'm pretty amazed how different it is to the
original
- I find it interesting that they're the same tempo. But I really do like the introduction, that little speech is rather inspirational (I used it in my
mix
!) But it's quite a fitting song for her, she doesn't understand why everyone is interested with her life... Ultimately, she gets to pick what she does with her life. She has her reasons, let's be happy for her.
Song 1049:
Amerie - 1 Thing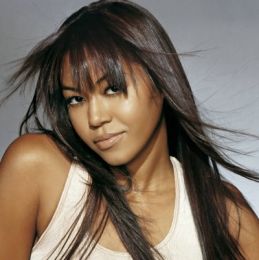 Here's the original mix of her smash hit single! The remix can be found in this
list
.
Cue the drums, the trumpets, the 50s glam, and you know it's going to be fantastic. She doesn't understand why she's so hooked up on this person; there's this aspect of them that she can't get off her mind. Despite that she doesn't know them that well, she wants to know so much more... or does she? The beat never gets old, and I could listen to it all day long. Anytime is the right time to listen to this jam!
Song 1050:
Savage Garden - The Animal Song
When I hear this, for some reason I am reminded of
these
... yeah, it's kind of strange, but whatever.
Kind of silly, but also fun. All he wants is to be wild and free like the wild life that gets to do as they please. Nothing beats the lifestyle of a carless creature - they have it so good. In a time with a bunch of problems and issues, maybe it is best to act like an animal. They make such a good argument; now it's time to decide which one to be. Decisions, decisions...