Get ready everybody, it's one ride with this list today. Definitely party-worthy!
Song

#1080: Gotta get grooving, just can't wait...
Song 1071:
Tiga - Far From Home
I was in the CD store one day, and his
album
caught my attention. Not wanting to buy it, I did some research on him when I got home... What a great find.
It's a weird song because I feel like I'm a teenager again, even though the idea is a bit mature. Everyone is looking at me, and I don't care. No matter where I'm going, I know that comfort is always close to me. Love the beat of the song, and it's one good song to be strutting to - even
PS3
agrees with me on this one! Go Canadian talent, they always think of something fresh.
Song 1072:
*Nsync - Thinking Of You (I Drive Myself Crazy)
Uh oh, they've gone insane all due to one stupid mistake. Why did they let go of the one they loved?
This is a nice song from the boy group, and it's nice to hear that even boys don't think at times. The sound is so peaceful and their voices shine in this piece; especially when they let
Chris
sing for once. But isn't that attractive? When someone admits that they have done wrong and saying that they can't live without you? That always gets to me - don't ask me how, but it's a deal breaker to show their undying affection.
Song 1073:
Chris Brown - She Ain't You
Another song that samples one of my
favourites
!
The first cover appeared
here
, and now this one shines here. I do think that the message is similar in a song previously
mentioned
, but in a grown-up matter. He begins to miss you and wonders why would he be looking for someone else. Now he's starting to realize that she isn't just another girl - she was the girl. It's a sweet message, and I hope that they get back together... Does the storyline seem to play a role with his current life? Let's keep it simple: one good song.
Song 1074:
Stephanie Mills - Never Knew Love Like This Before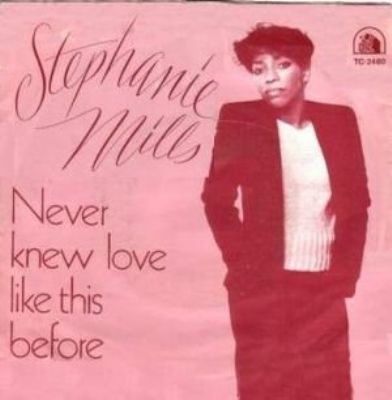 My mother made a list of songs she wanted on a CD. So I downloaded the songs, compiled them together, an gave it to her. She kept it in the car and whenever there weren't any other songs on the radio, I would flip this on. And this song put me in such a good mood.
That retro sound never gets old, and I have the urge to slow dance until I can no longer feel my bones. It's when you think you have experienced that feeling before... until it comes in a different direction. Ooh, how satisfying that can be. And her vocal range is the proof!
Song 1075:
Ciara - Click Flash
Wow, I have a handful of songs from this
movie
.
This one has to be my favourite, because deep down inside, we want to know what it's like to be a model. For those who don't care about clothes: they're really lying! Think about it: being paid to wear clothes and strike a pose... that seems fun to me. And this is what the song is all about. Even the most unexpected people enjoy being pampered once in a while. And Ciara here does it with much joy and pleasure. What a nice sound from her, it's a surprise.
Song 1076:
Nelly Furtado - I'm Like A Bird
The hit that shot her into stardom. She came out at the right time, and boy was this song a success.
Someone has confessed their feelings to her... She doesn't know how to respond to that. It's not that she doesn't like them back, but she hasn't done this before. This is a whole new experience, and wishes that it all went away. For now, she is scared - hopefully soon enough she will be strong enough to say what's deep within her heart. Such an interesting love song, it's not typical at all... I simply love it!
Song 1077:
Craig David - Hot Stuff (Let's Dance)
Does this sound
familiar
? Because I really enjoy this rendition - a lot. Can't go wrong with sampling!
There is nothing wrong with this piece, I love every second of it. All he wants is to see that body move, and maybe even get some... you know what I mean. And that bit where he sings so fast: oh my, he's got some lips on him. I don't know how some people can do it, but hopefully I can master that technique some day. It's one flattering song, and he's calling you one fine piece of property - need I say more?
Song 1078:
Backstreet Boys - Everybody (Backstreet's Back) [Extended Version]
Alright! They weren't kidding about returning long as music is alive... staying true to their words.
Did I ever question about the nightmare theme in the video? No! It's one of their best clips! Did I care what I was singing about? Not at all! Wondering if they are the only one to be desired is not a bad thing in my opinion. From the obvious statements to the dance segment, these are the memories of my childhood. Nothing beats this, it's certainly everything you need in one song. For kicks, here is my
Halloween mix
.
Song 1079:
Martin Solveig ft Dragonette - Hello
I admit that I wasn't much a fan of this song... So one day my cousin and I were heading to the mall, changing radio stations. This was her jam. I came to my senses, and now it's one fantastic workout song!
A bit cheeky if you ask me, she is such a tease in this piece. She's standing all by her flirty self, giving people the wrong message. All that she wants is to have a good time, not to hook up. Why you do this to me girl? If that's not happening tonight, might as well enjoy the party while we're at it. Songs like this = no problem!
Song 1080:
S Club 7 - S Club Party
Oh.My.Gaw. That's all I've got to say... for now.
This was all because of the HitList, and I have to thank them for that. Because of this song, I became obsessed with them, my cousins and I would perform to this on the weekends, and it's one awesome club banger - I hope they play this when I go out clubbing (it happened once!) Got to give it to them: there ain't no other celebration like these 7 funky kids from the other side of the pond. And what a great way to remember them: mention each member in the song! Party!