I had a hard time picking the title for this posting - so many memories from these songs!
Song #31:

Tellin' you my babe, it's all in the game of love

...

Read to see what else I'm listening to!
Song 31:
Santana ft Michelle Branch - The Game Of Love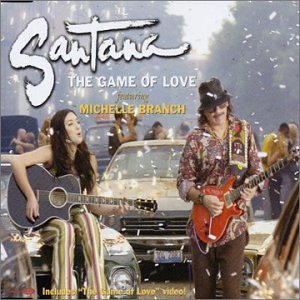 Sultry, simple, and an instant classic!
This is another song that all of my siblings and myself can listen to without at each other's throats d": There's something about this song, it's so melodic and singing along to it feels right.
I never get tired of this song, and when it played, I had the biggest smile this morning.
It's like beauty and pain in one song... brilliant.
Song 32:
Vanessa Carlton - White Houses
I like Vanessa Carlton, I just don't understand why she was a one-hit wonder... she even looks similar to Michelle Branch!
Her pieces are stunningly crafted, and mesmerizing to the bone... This song is no exception. And the music video: amazing! She shows both of her artistic sides, dancing and playing. I got excited when I saw it on TV. I loved this song so much, I even tried playing it on the piano... maybe one day I'll be nearly good as her.
Song 33:
Alexandra Stan - Mr. Saxobeat
My cousin and I were coming back from the mall, and this song popped up on the radio. She kept moving and grooving to the song like there was no tomorrow. It got me curious, I didn't even know the song - I'm usually the first to know new stuff!
After a few weeks, this song gained momentum on every other station... I believe this supports the theory that saxophones makes a song an instant hit C": I'll just keep on dancing for the moment.
Song 34:
Pitbull ft Ne-Yo, Nayer & Afrojack - Give Me Everything
Oh yeah, the song of last summer. I usually don't like that 'dirty sound' as I like to call it (when Ne-Yo sings
Grab somebody sexy, tell 'em 'hey'
), but this works for me!
Yes, they played too many times on the radio, but I like it too much to ever consider this song 'annoying.' Also, I have fantasies when I hear this song, telling someone to give me everything tonight d":
Song 35:
Black Eyed Peas - Pump It
It's that familiar tune that no one knows the name of the song! I like it when artists sample a familiar song - maybe it's trick to like their song, but it's clever.
The Black Eyed Peas had such good hits on the album "Monkey Business," and this one is fast-paced, high energy, and very hard to follow. Apl de Ap's rap is so fast, I never know what he's saying, but I love listening to that part... so sad that he is blind. I hope he'll still tour with the band, he's my favourite. Filipino Pride!
Song 36:
Taylor Swift - Enchanted
Please don't be in love with someone else...
I saw Taylor Swift in concert - she was amazing! Though it wasn't my favourite concert, I will say that I began to fall in love with her music afterwards.
When I first heard this song, I thought it was slow and long. After hearing it a few times, it's a song that gets stuck in my head, and I'm OK with that. She wrote it about Owl City... I'm thinking of someone when I hear this song too ❣
Song 37:
Jay-Z & Kanye West ft Otis Redding - Otis
This is such a funny song! And the music video matches its high energy.
My favourite line goes along the lines of
my other Benz
and
my other other Benz
, it's so catchy :"D
I was also surprised that it's a very short song, yet there is so much that they have to say... mostly not knowing what it's about. Yay to more sampling (especially the scream at the end!)
Song 38:
Savage Garden - Crash & Burn
They are certainly one of my favourite bands out there, their songs were catchy, original, and pure pop.
I was a bit surprised with this song, as it had a different feeling from their other singles. It was a song I rediscovered when I was growing up.
The message is welcoming and makes you feel good when times are bringing you down. Everyone has a story, don't be afraid to share it with someone you care about.
Song 39:
Katy Perry - Last Friday Night (TGIF)
On the upper side of things, here's one happy tune that makes me jealous of those who actually spend their Fridays depicted by Miss Perry.
I will say that I experienced one Friday like that, but it was significantly tamed compared to her car loss and hickey/bruise. It's comedy at its best, and the video can vouch for that - I mean, Kenny G! Once again, saxophones.
She knows how to party, and I'd love to attend one C":
Song 40:
Willow Smith - Whip My Hair
I heard the dance to this is dangerous - it may lead to whiplash!
This is an interesting song, it's coming from a 9-year old, and she has haters? What is that all about? I thought it was cheesy at first, but when I saw it on Ellen, I gave in.
When I had long hair, I would shake it left to right, again and again, till I felt dizzy. Everyone should grow their hair just so they can whip it d":