There may be all kinds of pop and Disney in this list, but none compares to this 80s track for Day 18.
Song #187: So glad we've almost made it, so sad they had to fade it...
Song 181:
O-Town - The Painter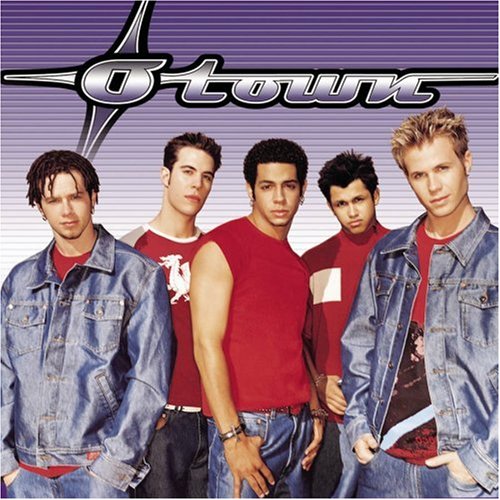 Ah, the glory days of the boy bands... Or is it boy group? Cause bands have members playing instruments... OK, whatever.
My cousin loved this song so much, that I had to get it on a mix CD! O-Town was a good band, but it had the curse of TV singing competitions: they don't usually last that long. I wonder why is that?
The song: it's creative, and cheesy, but sounds melodic. It's complimentary to be described as art.
Song 182:
The Warblers - Somewhere Only We Know
This has to be one of the best renditions that Glee has ever made. I do love
Keane
's version, but this acapella version gives me the chills. The sweet "oohs" at the beginning, and the slow rise of the piano coming in to play gives me utter joy and happiness.
This person waits for their lover to let them in, and they're yearning for this response. It's hopeful, and having a place to talk about it is special. When I fall in love, I do hope that it sounds like this. It's magical.
Song 183:
Jennifer Lopez - Feelin' So Good
I always feel jealous when I see the music video for this: she finds money on the ground! And who wouldn't be enjoying themselves if they did?
This song is so chilled, and you can't help but feel pleasant after listening to it. Having a great day, and nothing is in the way to stop it. Looking at the positive side without being too happy. What a nice combination.
Song 184:
Angela Lansbury - Beauty And The Beast
My favourite
Disney Movie
of all time. This came out when I was born, and I love it to this day. I even saw it in 3D... it was a spectacular!
And the most beloved scene came on the screen, I was in awe. It is different to see your favourite movie in a different perspective, but the feeling is always mutual. I didn't know that Mrs. Potts did not want to sing it... I'm glad Angel Lansbury made a recording of it. I learned this on piano; hopefully I can learn it again. It's a beautiful song.
Song 185:
Shayne Ward - If That's OK With You
This song had to grow on me. Initially, I thought it was weird. Here's some macho-looking man singing a cute love song, and there is one line that bothers me: "
I'm gonna saint your mama just for giving you birth
." That doesn't seem to flow for me.
Now listening to it, it's silly and that's something I would probably end my sentences if I asked my crush for a request: if that's OK with you. The chipmunk sounds are a nice touch. Awkward, but adorkable.
Song 186:
Private - Killer On The Dancefloor
Another song from a blog. Seriously, European music is BAUS! Yes, i had to go there. The production is wonderful, and the lyrics make so much sense.
It has an eery vibe this song, but suits the title of the track. On the look for something, the hunter finds its match through a dance-crave beat. Sounds like Halloween, but it's appropriate anytime. Play this in the club, and I might be on the lookout for a a potential candidate. Freakishly sensual!
Song 187:
Tears For Fears - Everybody Wants To Rule The World
When I heard this song on the radio, I knew I had to get this song. It has a nice flow, and the song is filled with deep thoughts about life. You don't hear songs like these anymore, huh?
The beat never gets old, I can listen to this all day, even though I feel a bit sad when I hear it. But that's what life is all about, right? Making decisions, learning from them, and hopefully they lead to the key of success. Whatever you're going through, know it's going to be a great life.
Song 188:
Bobby Driscoll & Paul Collins - Following The Leader
More Peter Pan! Who doesn't know this song? Always sung it and played this game in elementary school - our crazy imaginations sometimes.
It's pretty simple to follow, was an absolute blast! And the lyrics are pretty much the title, and ad-libbing. Pure genius, but I was disappointed when I went through a water fall, there was no imprint of me left behind d":
Song 189:
Sarina Paris - Look At Us
For the longest time, I thought this was Euro pop track. There wasn't anything else like this at the time. Well, I was surprised to hear that she is Canadian. Don't know if this was released elsewhere out of Canada...
She has that high-pitched voice that's mature but still a stelar to listen to. I think everyone was obsessed with this song. It's a shining bright star that no one wants to get off. After all is said and done, we've made it. None of them stopped us, and look how strong and in love we are. So sick, I want it so badly!
Song 190:
Paris Hilton - Stars Are Blind
Don't judge me, you know you know this song - it can never be erased out of your mind!
Sure, her singing sounds like breathing, but the beat is so lazy beach day. Also, a girl wants to be treated right, and she found the one not like the others. Isn't that what every girl wants?
Plus, the music video is... majestic? I just like where she's dancing between two palm trees and tumbling around the sand... and I'll stop there.