It's about you, how you've made me a better person. I thank you for that.
Song #976:
Cause you always saw in me, all the best that I could be...
971:
Avril Lavigne - Hot (Mandarin Version)
I like this era of Avril. Although it's more pop, she did try to reach all of her fans... Even if it meant singing part of her song a different language.
This is one of my favourite songs from her, it reminds me of someone - but not that way! I'm learning Mandarin at the moment, and I'm going to see if I can understand what she sings; the message could be different, but I doubt it. Nothing against the
original
, but it's interesting when an artist wants to expand their horizons. Wish she continued with Chinese though.
Song 972:
Kirk Douglas - A Whale Of A Tale
Sometimes I think imagination can be dated. Take this
movie
for example, and compare it to Disney's current films. It seems different, don't you think?
Taking from the clip I saw, it's about a sailor who falls in love only to be taken away from certain mishaps. It's a bit sad, but he makes it all light-hearted. And if it keeps the other members in a cheery mood, who is there to complain? Never give up and keep on going. Remember, there are other people who have been in worse situations than you - don't forget to smile.
Song 973:
Brandy & Monica - The Boy Is Mine
This is one epic song, there is a lot of tension here and their voices go well together. So when
Glee
used this song, I was so excited that the jitters got to me.
It's like a conversation piece, they're dealing this like adults, complimenting themselves, saying that this man actually loves them. The duet is brilliant, they were smart to release a single during the peak of their careers. And it makes me happy that they reunited for this
piece
. I admit it's not the same, but they've grown to their senses. But of course, nothing beats drama.
Song 974:
Jully Black - Until I Stay
So here is the original version on this list. The first time you heard it, that was the
remix
.
There is a different story with this one: she wants to leaves this relationship, but something keeps pulling her back. When they go out, they are the perfect couple - but that's not the same when no one's around. This is pure Rhythm & Blues, you can feel her pain and wish it didn't hurt so much. Such a lovely voice, I hope she sticks around and makes more music. I should add more songs in my library from her.
Song 975:
B.o.B ft Bruno Mars - Nothin' On You
There is an hour when I love listening to the radio. One of those days, they played this song for the first time. Within seconds, I knew it was love at first sound.
A girl is feeling a bit jealous that he's looking at someone else... Not to worry, because he's only thinking of you. Everywhere he's been, there is no other that makes him second guessing. Even
Bruno Mars
is telling you that there ain't no other one he wants but you. All to a lazy piano sound, it's like a dream to your ears. It's all good under the hood.
Song 976:
Gloria Estefan & *Nsync - Music Of My Heart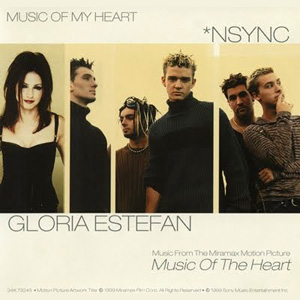 I never knew this song was made for a
movie
- it's one touching piece! Pretty sure my eyes would just ball if I were to watch this.
My cousin and I sang this at my grandparent's anniversary - ah, memories. There is a timeless sound to it, the production is perfection, and it makes me happy. This is for the person who never had doubt in you, gave you a reason to keep reaching your dreams, and be the best. They are the reason you're smiling all the time. An inspiring song at its finest.
Song 977:
Atomic Kitten - The Tide Is High (Get The Feeling)
When I saw this on the HitList, I was like 'ooh, metallic palm trees!' I think it's my favourite video from them.
They always play the
original
version on the radio (yes, this is a cover!) But this is the motivator kind of song, they're not backing down until they are yours. She's not the aggressive type, she's waiting for the moment to make her move - she's patient. When I think of it, I don't see how water levels relate to relationships, unless you're floating in it? Don't question, and do what
Hilary Duff
does - enjoy it!
Song 978:
Lucy Pearl - Dance Tonight
I'm surprised that this song is 12 years old... The sound is mature, I thought it was older!
One car ride from my brother, and he kept playing this song on repeat. After about the third time, I fell in love with it. From the violins to the mood setting, it feels so right. The raspy mixed with the smooth, it's a perfect combination in this piece. Plus, it's the type of song where you feel comfortable with anyone, lounge around, and maybe get into more fun as the time gets late. PS - this was for a
movie
- it makes sense!
Song 979:
Cher - The Shoop Shoop Song (It's In His Kiss)
I thought this was the song of my childhood - this is the cover. Oh well, still love it either way!
It's cute and silly, but also true. If you want to know it's love, you got to go for it and see where is takes you. I now know that it's the
original
I should have been looking for all this time. Why? Because of this
show
. Can't believe I still remember this! This is a louder version in my opinion, but that's because she already found love - otherwise how can she sing it? Also for a
movie
- didn't know, adding another film to watch.
At times, you feel lost with yourself, and all you can do is keep going on that path until you hit the spot. Maybe you've done something wrong and don't know what to make of it - so you start to think a little harder.
This song means a lot to me, but I'm not really sure if it plays a significance to me... yet. From the lovely ladies singing to the melodic beat, it feels like an accomplishment has been made. Here I am, and it feels good to be back on my feet. There is no stopping on this path, only a brighter day. Simply awesome.